Update: July 6, 2017
Don't let the cobwebs on this site fool you. I'm tackling a ton of stuff these days. Here's what's coming in the months ahead:
Revamp of this site (darrenmart.com)
Revamp of Triviarch (triviarch.com)
Ongoing development of Tenterhook (tenterhook.net)
Release of a Steampunk-themed adventure game (built using Tenterhook)
That last item is a wild card in terms of timing. My goal was to release it by October, but life has a tendency to get in the way and I don't want to rush this adventure out the door. I hope you'll consider it worth the wait.
Update: April 30, 2017
The creation of the Steampunk-themed adventure is underway, and needless to say it won't be ready for several months. Just for fun, here's a "making of" clip that follows the creation of the opening scene, from paper sketch to wireframes to finishing touches.
Update: March 18, 2017
Good news: I'm still alive! More good news: Tenterhook is officially out in the wild, at least in Alpha form. There's even a sample mini-adventure you can try. I'm setting aside Buddy Knavery for a few months to build a steampunk-themed adventure, and I'm pretty excited about where things are going. This is when the fun begins and Tenterhook really starts to shine.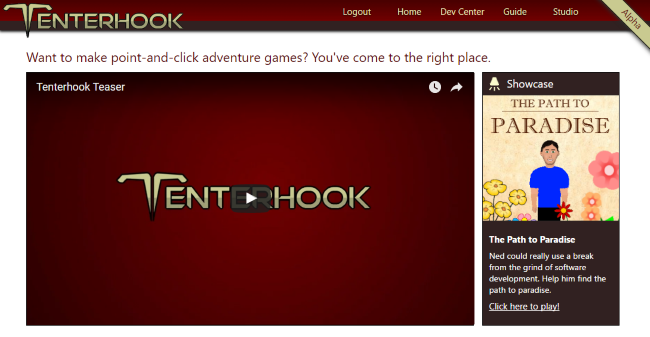 Update: November 17, 2016
Lest ye think Tenterhook is vaporware, here's a teaser of what's ahead in 2017:
Update: October 28, 2016
I'm still working feverishly on Tenterhook and Buddy Knavery. The goal is to have an alpha version available in early 2017, but I'm not going to share the platform with the public until it's actually ready. One thing I know for sure: it'll be worth the wait.
Update: September 16, 2016
I'm burning my candle at both ends, continuing to build and improve Tenterhook while creating Buddy Knavery as a real-world test. With any luck I'll have an alpha version ready by EOY.
Angular 2 was released on September 14 and for once I'm slightly ahead of the curve. There were plenty of breaking changes throughout the Release Candidate phase and it soured my spirits at times, but I'm happy to say that Tenterhook is building smoothly against the official Angular 2 release. It's certainly built for the future.
I've been careful not to rush Tenterhook out the door and that approach has paid off. I'm excited about the way things are shaping up. Expect many good things in 2017.
Update: May 18, 2016
Now that Angular 2 is post-beta I've decided to adopt it as the framework for Tenterhook. This does NOT mean the past six months were wasted. Angular 2 is a dramatic departure from its predecessor but many of the concepts still apply.
This does mean the launch date will slip past July as I ramp up and convert code. We're looking at October or November.
Angular 2 qualifies as cutting-edge and will certainly be a major player for years to come. This underscores my long-term commitment to Tenterhook and making it the very best it can be. It'll be worth the wait.
The feature/task list below will soon be replaced with a breakdown of the conversion process.
Characters: dynamic scaling
Scenarios: vary output based on active character
Visuals: implement Label visual
Audio: implement sound banks and scene background audio
Storyboards: storyboard editor and directives
Characters: character switching
Scripting: Implement all ScriptActions and Tests
Game: Load/Save Game functionality
Account: integration with Microsoft Account, Facebook, Google
Assets: storage of assets in Azure
Assets: pre-loading assets before scene presentation
Studio: implement logger/debug window
Studio: add validations to all editor dialogs
Manifest: implement health checking
Notifications: implement Notification engine/window
Sample Game: Buddy Knavery Episode 1: The Killer Riffs (in progress)